Our Offroad vehicles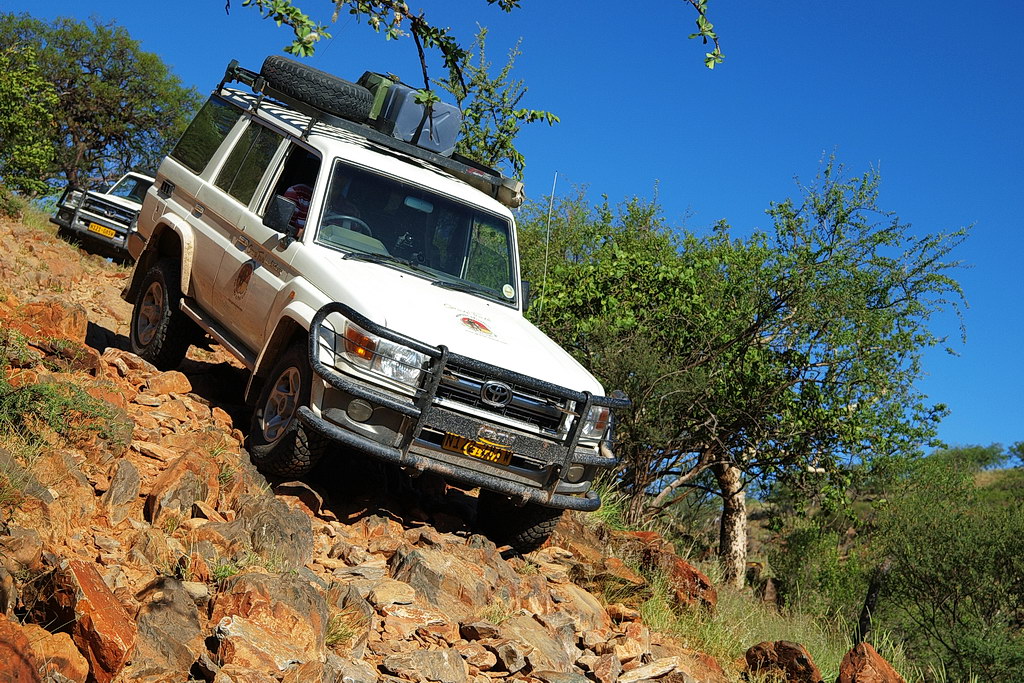 For our offroad tours we rely on Toyota technique, in this case the model of the so called bush-taxi. The Land Cruiser proofed to be an epitome of offroad capabilities and uncompromising reliability in all terrain conditions and is last but not least very comfortable to drive. Not only on the legendary gravel roads but also the challenging stages like e.g. the famed Van Zyl's pass in the Kaokoland: the Land Cruiser is a highly reliable companion.

From the beginning we conducted the offroad tours with the same concept – traveling with freedom and maximum of safety. The roadbook was the "guide" in the past, nowadays it's a modern pre-programmed GPS that guides you at your own pace to focus on your personal adventure thus will not give you any pressure to stick to a convoy. Even in the remote Damaraland and Kaokoland you will not get lost, having a great safety aspect due to its reliability.
---
Service & maintenance
Anyhow, this tour is accompanied by a guide driving the service-vehicle providing all back-up for a relaxed maximum safe trip. Despite the high level of technical reliability of the vehicles, they nevertheless require a steady maintaining eye. The heavy terrain, dust and heat always takes influence on fitness and performance. Our guide is an experienced mechanic and cares for the service, equipped with all important spares and tools – for you to relax and have an easy going tour and travel time through the middle of nowhere.

The vehicles are checked and serviced thoroughly between the tours at our own workshop at Windhoek Mountain Lodge.
Individual driving
The principle of individual driving and minimising the risk same time was always our aim. No chance to get lost thanks use of Garmin GPS working with highest precision. Drive independently with own pace, without sticking to a convoy. Enjoy individuality for impressions and moments along the route as it suits your personal taste – in safety of an accompanying service-vehicle for any back-up.